soul_campaign
.
You can ask about any of the characters I have, even those who are dropped. If you are not at SC you can gimme one of your characters and I can tell you how I think they would perceive them!
Characters I have/have had are:
Rise Kujikawa | Persona 4 |
forthecamera
Winry Rockbell | Fullmetal Alchemist |
endthiscycle
Fa Ping (Mulan) | Disney's Mulan |
thethirdhare
Desiree "DiDi" Chastel | Menage a 3 |
notthebutch
Matilda Wormwood | Matilda by Roald Dahl |
nailsandglass
Amelie Cooper | Axis Powers Hetalia |
nocollarsplz
Elizabeth "Liz" Thompson | Soul Eater |
thesmallergun
Eruka Frog | Soul Eater |
thespazzyfrog
I'm bored and mostly internetless, so this is a CR post for those at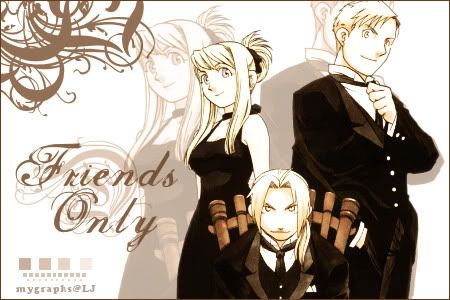 Comment to be Added.